Today's Learning Summer 2 Week 6
Friday 10th July 2020
Good morning everyone and welcome to Friday! Well done for completing yet another week of home learning - I hope that you have enjoyed this week's activities.
WELL DONE
Wow Nursery - you have outdone yourselves this week! What super home learning. I am so proud that are all still working so hard at home after all of this time. You are AMAZING (and so are your Mummies and Daddies for helping you at home). Well done everyone - have a great weekend
Physical/Dance
Let's start with a butterfly boogie.
The World/Reading
Click through this powerpoint to find out how a caterpillar changes into a butterfly.
Language/The World
Look at this picture and talk about the different stages of the butterfly lifecycle.
Look at these beautiful butterflies. What do you notice about their wings? Can you see that their wings have the same patterns and colours on each side?
Creative
Mrs Ward has been making some beautiful colourful butterflies. Watch this video and then see if you can make your own symmetrical butterflies.
Maths
Mrs Ward has a counting story for you - can you count back from 10-0 with Mrs Ward?
Thursday 9th July 2020
Good morning everyone. Are you ready for some more caterpillar fun? Don't forget we will be showing the STARS of the week tomorrow so if you would like to show your work please send it to nurseryteacher@girlingtonprimary.co.uk
Mrs Ward
The World
A few weeks ago Mrs Dickinson, one of the Reception teachers had some real caterpillars delivered and made this video for the Reception children - take a look at her video and see some real caterpillars!
Can you guess what happened to the next?
Being Healthy
Watch this slideshow (click the picture to move onto the next slide) and then make yourself a healthy plate or lunchbox - you can use printed pictures, draw your own pictures or use real food on a real plate.
Fruit Kebabs
Mrs Ward has been making a healthy snack. Watch Mrs Ward's video on how to make a fruit kebab then choose your favourite fruit from the options below.
Reading
Can you order put the events from the story in the correct order. You could draw your own pictures or make a concertina book like we did a few weeks ago. If you would like to print this copy click here.
Maths
Roll a dice, recognise the numeral or count the spots and colour the correct piece of food - you can draw your own or click here to print a copy.
Wednesday 8th July 2020
Good morning everyone. I hope that you enjoyed the story and activities yesterday. Today we are going listen to the story again and make our own props to retell the story - hopefully you made a caterpillar yesterday - you could use this to help you.
Have a great day everyone.
Mrs Ward
The World
Before we read the story again, watch this video about some real caterpillars!
Reading
Listen again to the story 'The Very Hungry Caterpillar.' Today, see if you can join in with me - can you remember what happened?
Let's play I spy
Can you find all of the things from the story in this picture (the big circles are not part of the checklist - they are there to make finding the other things more challenging)
Creative
Let's make some playdough props to help us to the story. If you don't have playdough you could use real fruit or make draw you own pictures. (You can also print some here if you wish) If you are feeling really adventurous you could use clay and paint it afterwards!
Maths 1
Sing the days of the week song again - can you say them all in the correct order?
Maths 2
1. Put the days of the week in the correct order.
2. Draw the correct pieces of fruit next to each day.
Here is an example:
Creative/Singing
Listen to this song about a caterpillar - can you join in and make up some actions?
Which caterpillar did you make yesterday?
Today, try out a different caterpillar craft.
Tuesday 7th July 2020
Good morning Nursery. For the rest of this week we are going to be learning about fruit and some special creatures called minibeasts. Minibeasts are tiny creatures - can you think of any? We are going to reading some stories about minibeasts and doing lots of lovely creative crafts. I hope you enjoy them, and don't forget to send me some pictures so that I can see what you have been doing.
Let's start today with a minibeast dance!
Have fun everyone.
Language
Look at the things that Mrs Ward has bought from the shop. Can you name them? When you have watched the video, see how many things you can remember before listening to the story.
Reading
Now listen to Mrs Ward's story - see if you can you spot all of the different fruits that Mrs Ward had bought from the shop?
Mark Making
Keep a diary of the food that you eat each day this week, just like the Very Hungry Caterpillar. You can draw pictures and then add some writing to say what you have drawn. If you would like a printable copy click here.
**Note to parents - as I have mentioned before, children in Nursery are not expected to "write" words as you may expect from older children. There "writing" may look like lines or squiggles or random letters. This is fine and we would rather them explore their own mark making than copy or trace. Some older children may be ready to use letters in their writing and this is fine to encourage.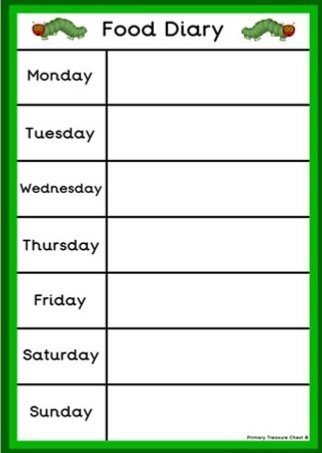 Maths
Do you know the days of the week and can you say them in the right order?
Let's learn them with this song.
How many days of the week are there
Creative
Make a paper chain caterpillar
Here are some other ideas that you could try.
Monday 6th July 2020
Good morning Nursery. It's been windy weekend - I hope you are all safe and well. The wind isn't supposed to be quite as strong today but I thought we could still do some windy day crafts, ready for if and when the wind comes back!
Have a great day everyone,
Mrs Ward
Watch Peppa Pig 'Flying A Kite'
Why doesn't the kite fly at first?
What helps the kite to fly?
Make you own kite and see if it flies in the wind?
Here are some ideas - see below for other ideas and different types of kites that you could try.
***Always supervise your child if using plastic bags
Make your own wind sock
See which way the ribbons blow to find out which direction the wind is blowing in.
Muddy Puddles
As well as being great fun, playing in puddles is great for developing physical coordination. Yes children will get dirty, yes they will get wet, but clothes and children will wash and they will have had enormous fun!
Maths
Try this maths game today. Write numbers 1-6 randomly around a piece of paper. Roll a number die or regular die - recognise the numeral or count the spots and then see if you can find it on your paper.