I hope your all still washing your hands very well. Here is some yoga to help you remember.
Can you draw and label your own flower? If you are not sure of what each part is called, watch Mrs Troy I think she can help you!
We know you all love to play games. Have a go at this one on your computer. See how many new words you have learnt this week to talk about size
Can you read the next page of the book ?
Did you have fun planting your seeds yesterday? see if you can remember how you did it. Draw the images of each stage in order.
Use the sound mat to help you to identify the correct digraph.
Use this link to have a go at measuring in cm.
Get ready for the day.....
Can you use the instruction below to plant your own bean. If you don't have a bean, you could use a apple pip or even another type of seed. Have a go at reading the words below by sounding them out.
Write a list of all the tricky words you can find.
Reading Challenge
Mrs Ramsden had already started to read the book on Monday. Can you remember what information it gave us?
Count how many words you can read in the next page of the book.
Can you use your sense of taste to play this fun jelly bean game?
Taste the bean and then predict its colour and flavour.
Record this in your work book.
Now write the sentences below and fill in the missing parts.
This week we will be planting our own seeds and we need to know how they will grow. We are going to use a non-fiction book to give us the information. Mrs Ramsden will be helping us to read the book . I think there are some words you can help with!
If you don't have a printer you can draw 4 plants of different sizes, but make sure they are in order.
Good morning boys and girls
This week we are continuing to learn about Jack and the Beanstalk, but we will also be learning about growing .
This week you will need some jelly beans and some beans for planting .
Let's start the day with a warm up! Mrs Ramsden is playing the bean game with her grandchildren. Can you play it with your family? Don't forget to send us your pictures.
Here are the names and actions for some other beans that you could use.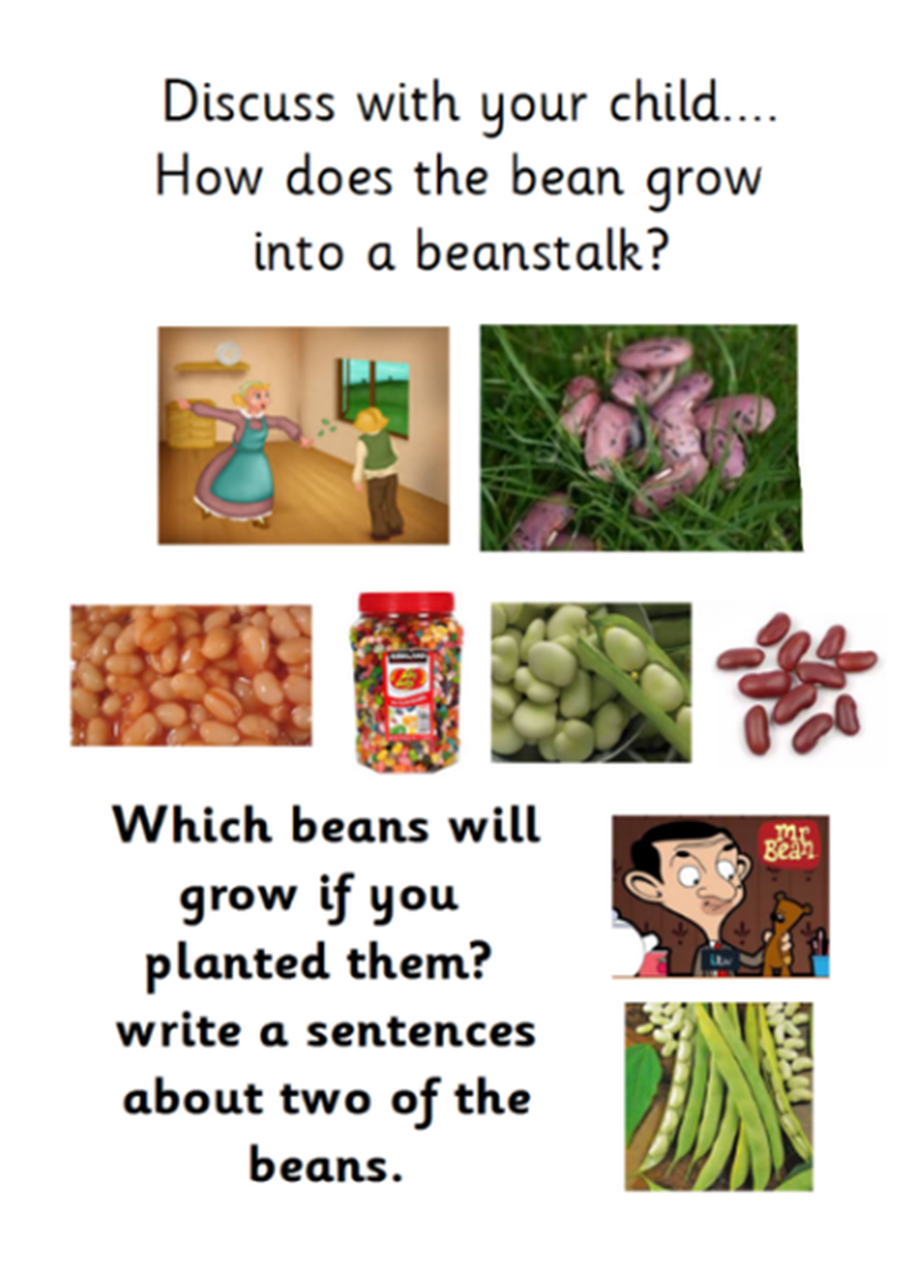 Use a range of seeds, beans and lentils to create some beautiful art work.