Important Information
Important Information
20 March 2020 (by girlington)
Dear parents and carers Following government guidance on coronavirus (COVID-19) and a direction from the Local Authority we have closed our school to the vast majority of pupils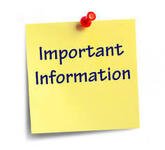 The government says that this closure is until further notice.
The teachers have all made plans for our children to work from home. Your child has been sent home with a pack and instructions. Most of the work will be set daily on the school website. If your child has been absent, we will deliver a pack to you.
We really want you to support your child with their learning at home. We know that this will be a difficult time for many families. If you are experiencing difficulties, please e-mail the school office office@girlingtonprimary.co.uk, and a member of staff will contact you as soon as possible.
The Local Authority will keep the situation under constant review and we will update the website as soon as we know if the situation on the school closure changes.
We will communicate mainly through text messages and our website, so please check these regularly.
All of the staff are extremely sad that we have had to shut our school and they are all concerned about the welfare and wellbeing of all of our pupils, we will be doing everything we can to support you through these difficult circumstances. This is a very serious situation and the main priority for the whole country is to stop the spread of this virus and keep the death toll to a minimum. Where possible all children and their families need to stay at home.
The school will remain open to provide emergency childcare only for some groups:
Children who have an EHCP
Children who have a Social Worker
Children with parents who are in one of the key worker groups. This must only be when you are at work and there is no one else to look after your child.
We hope that you and your families stay safe and well during this difficult time.
Kathryn Swales
Please see our website for frequently asked questions