Sports News
Sports News
5 March 2020 (by Darren Moseley (darren.moseley@girlingtonprimary.co.uk))
West Bradford Under 9's Tennis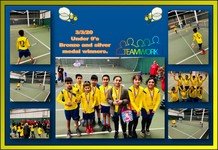 After lunch on Tuesday, our 2 Under 9's Tennis Teams headed to Heaton Tennis Club to compete in this event.
After 10 rounds of Tennis it was announced that not only had we come third, we had also come second. Meaning that the children received bronze and silver medals.
Well done to the children for their hard work in club and continuous practice in the The Tennis Zone.