Signing Choir
Signing Choir
19 December 2019 (by Katrina McEachran (katrina.McEachran@girlingtonprimary.co.uk))
Girlington Primary School Signing Choir festive performances.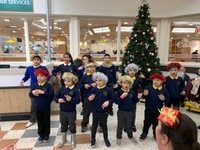 This December our Signing Choir have been spreading festive cheer with two wonderful performances.
On Thursday 12th December the children were once again invited to perform as past of the NHS Christmas concert at Bradford Cathedral. The children from Girlington ARC were joined by children from Swain House Primary School to perform four Christmas songs. Thank you to all parents and staff who were able to come along on the evening to support the children.
Our second performance was at Girlington Morrison's on Wednesday 18th December.
The children entertained shoppers in the foyer of the store and built up quite a crowd of on lookers. A huge thank you to Morrisons for hosting us and providing drinks and chocolates and to all those who donated we raised £244.30 which is really wonderful.