Sports News
Sports News
10 December 2019 (by Darren Moseley (darren.moseley@girlingtonprimary.co.uk))
Sports Hall Athletics Competition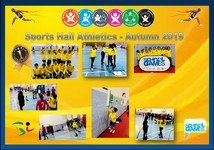 On Tuesday 26th and Thursday 28th November 2 teams represented our school in the West Bradford Sports Hall Athletics Competition held at Thornton Recreation Centre.
We were delighted to find out that after a very close call Our Tuesday team came in 1st place.
The team on Thursday came in 4th.
in total 24 children were able to attend this fantastic competition.
Well done all.