Shakespeare Schools Festival
Shakespeare Schools Festival
18 October 2019 (by Katrina McEachran (katrina.McEachran@girlingtonprimary.co.uk))
Girlington Arc pupils perform King Lear at the Alhambra Studio.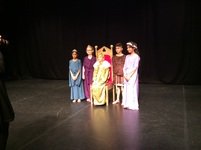 The 15th October 2019 will be etched in the memory of 5 ARC pupils for many years to come, this was the evening they brought the house down with their incredible performances of an adaptation of King Lear.
Shakespeare Schools Festival is the biggest youth drama festival in the country and this year we had the opportunity to take part. Weeks of hard work went into creating this production from writing the script, making costumes, plotting sound and lighting to learning lines and rehearsing each scene meticulously, thank you to everyone involved in making this happen.
On the evening itself the children were very exciting and a little nervous but this did not show during their performance which saw them receive rapturous applause from their parents, teachers, friends and the other two schools who also performed on the evening.
The children were met after the show by their very proud parents who echoed the thoughts of many when they said there was not a dry eye in the house.