Sports News
Sports News
14 October 2019 (by Darren Moseley (darren.moseley@girlingtonprimary.co.uk))
Boccia Competition.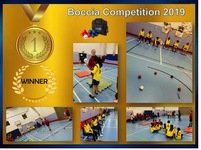 On Tuesday 8th October 2 teams traveled to Thornton Recreation Centre to compete in the Under 11's Boccia Competition for West Bradford. Both teams played very well against many other schools. Good sportsmanship, teamwork made for a great atmosphere throughout the event. Upon our return we were delighted to find out that our Girlington Blue Team had come 1st place and secured a gold medal, with Girlington Red coming 5th.
The Blue Team will now go through the The Bradford Winter Games Finals.
The children behaved very well and as always are a credit to our school.
Well done.