Sports News
Sports News
7 October 2019 (by Darren Moseley (darren.moseley@girlingtonprimary.co.uk))
Football Festival.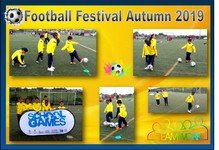 On Thursday 3rd October 7 children from Year 4 represented our school at The West Bradford Football Festival.
The children participated in several football challenges including passing, dribbling, shooting and ball control throughout the event.
All of the children received a School Games T=shirt for their maximum effort.
Well done.