The Gardening Project
The Gardening Project
3 July 2019 (by Darren Moseley (darren.moseley@girlingtonprimary.co.uk))
Gardening Discovery Project.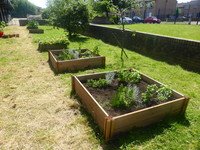 On Tuesday 18th June 2019, employees from Santander bank gave up their time and volunteered to build a Sensory Garden at Girlington Primary School as part of the banks Santander Community Days, Discovery Project.
The school applied for the Discovery day and were successful in their application. As well as building and filling the raised beds with topsoil, compost and sand the volunteers also planted a wide range of herbs such as Lemon Balm and mint. As part of the Santander project the bank also gives a grant of up to £250.00 to help with the costs of the project.
The sensory garden has been designed to stimulate the children's senses of sight, smell, touch, taste, and sound and is a great addition to the school garden. The school will use the sensory garden as a meaningful tool integrating the outdoors with the National Curriculum.