Sports News
Sports News
3 July 2019 (by Darren Moseley (darren.moseley@girlingtonprimary.co.uk))
School Games Sports Award.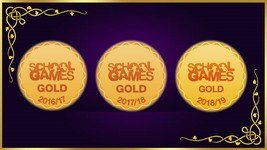 We are delighted to announce that for a third consecutive year Girlington Primary School has achieved the Gold Award from The School Games and Sports. A hat trick!
This has once again been awarded for the commitment and development of competitions across the school and into the community. We are tremendously honoured that out success has been recognised.
We are extremely proud of our pupils for their dedication and commitment to all aspects of school sport, including the young volunteers and leaders who made the competitions possible.
Special thanks to:
The dedicated PE and Sports Team.
Plus all of the staff who have supported then throughout all aspects of sport, clubs and competitions.
The Year 4.5 and 6 Sport leaders for all of your hard work and dedication.
A supportive management team.
Mr Painter, SGO, and his team of leaders for organising and running the events. Keeping us updated regularly with all we need to know.
The children from our school have trained, worked hard and attended the events. Showing good sportsmanship and behaviour at each event attended.