Sports News
Sports News
26 June 2019 (by Darren Moseley (darren.moseley@girlingtonprimary.co.uk))
Bradford Summer Sports Finals.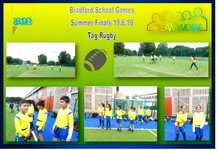 School Games.
Tag Rugby.
On Wednesday 19th June 2019, Girlington Primary School U 11's tag rugby team competed at the Bradford Summer School Games held at Bradford Grammar School. The team were up against some tough opposition playing against teams from across the Bradford district. They won 2 matches drew 1 and lost 1.
Well done, you all played with determination, respect and portrayed great teamwork.