Sports News
Sports News
8 May 2019 (by Darren Moseley (darren.moseley@girlingtonprimary.co.uk))
Netball - West Bradford Finals 7.5.19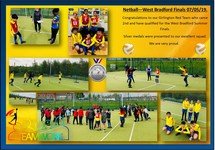 Following last weeks success, Girlington Red Team headed back to Beckfoot Thornton to compete.
5 matches were played in total, against the best of the best from the West Bradford area.
We won 3 matches and drew 2.
After the results were announced in reverse order, we were delighted to find not only had we come second, but also secured a place in the Bradford finals also.
Well done to all of our team, who have continued to practice whenever they can and showed true commitment throughout.
We are very proud.