Sports News
Sports News
28 January 2019 (by Darren Moseley (darren.moseley@girlingtonprimary.co.uk))
Under 9's Cross Country Competition.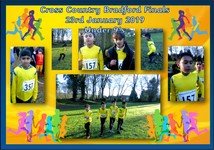 On Wednesday 23rd January 4 children represented GPS at the Bradford School Games Cross Country Final at Cliffe Castle, Keighley.
All children displayed maximum effort of a difficult and hilly course.
Well done to all for completing the course and running with determination against professional runners from schools across the Bradford district.
Well done.