Garden News
Garden News
21 September 2018 (by girlington)
Autumn Harvest.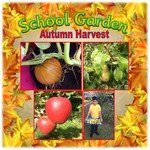 The gardening club children have been busy harvesting the fruit and vegetables over the past two weeks.
When the apples and pears were harvested the year 4 gardening club children handed them out at playtime.
We have grown three huge pumpkins, these will be taken into school and will be used to make pumpkin soup next week.
There is nothing better than learning how to grow and eat from the garden.