4th September 20 Welcome back
4th September 20 Welcome back
4 September 2020 (by girlington)
Dear Parents We have all been working hard over the summer to make sure school is a safe place to be. We really need your help to keep your children safe so here are a few reminders.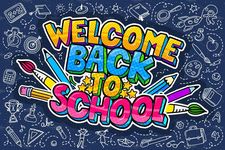 Breakfast Club - Breakfast club starts at 8.15. Children will be in bubbles. So that we can keep the children in bubbles we are only offering breakfast. There will be no dodgeball, football or ICT.
You must book a place for breakfast club via the school website –( PARENTS – School Food Provision – Breakfast Club)
You must pay for breakfast club by parent pay. We cannot take cash.
Dropping off
We need to make sure that we do not have large numbers gathering in the playground.
The cloakroom doors open at 8.40, you can bring your child to school between 8.40 and 9.00.
Only one parent must drop off.
Line up on the marked lines at least 1 metre apart.
Please leave your child at the school gate if you feel they can make their own way to their cloakroom.
Please leave the school grounds straight away once you have dropped your child off.
Water bottles
Please send your child with a filled water bottle with their name each day.
If you need to buy a water bottle, you can do this using Parent Pay. Your child can tell their teacher that they have paid for a water bottle when they arrive at school and a member of staff will collect one for them.
Parent Pay
We can no longer accept cash due to Coronavirus.
If you have not already done so you will need to sign up for Parent Pay. You will need to give us an email address so that we can send you an activation code. You can find instructions on our website. (PARENTS- Parent Pay )
Picking up
Only one parent to pick up.
Please wait on the marked area outside your child's classroom and keep at least 1 metre apart.
Please be patient so that we can keep everyone safe.
Milk and Snack
If you would like to pay for milk and snack, the deadline for the Autumn Term is Friday 11th September. You must pay using Parent Pay.
To find out about snack and milk, go to our website select Parents, School Food provision, Milk and Snack.(PARENTS School Food Provision – Milk & Snack Sep – Dec 20)
Speaking to the teachers
Unfortunately at the moment we cannot allow parents into the school building. If you need to speak to a teacher about your child please could you telephone the school office on 01274 493543 or email the office on office@girlingtonrimary.co.uk , if a member of the admin team cannot help you they will ask your child's teacher to contact you. Please try not to speak to the staff on the doors in the morning as this may cause congestion. Senior leaders will be available in the playground each morning to help you with any problems you have.
New Website
We have a new website and we are working hard to make sure that all the information you need is there. Go to girlingtonprimary.co.uk to find out more.
During this time we will be using the website a lot to communicate with you, so save it in your favourites and remember to look at it regularly.
Thank you
Kathryn Swales
Headteacher