Back to school September 2020 (click for more info)
Back to school September 2020 (click for more info)
23 July 2020 (by girlington)
You will have heard the government announcement that schools will be open for all pupils' full-time education from September 2020. Our school has been welcoming pupils in different year groups back since June.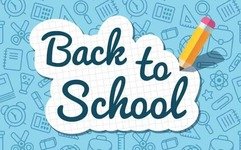 This has gone extremely well. We have reviewed all the scientific advice and followed the Government guidelines to ensure that it has been as safe as possible. Thank you to all those parents who sent your children back into school as requested – it has been lovely to see them.
You will also have received a letter introducing your child to their new teacher.
We are delighted that we can now look forward to seeing all our pupils back in September. We will be very busy in the next couple of weeks planning, completing new detailed risk assessments, and working out exactly what school will look like and feel like when your child returns.
The Government has stated: 'Given the improved position, the balance of risk is now overwhelmingly in favour of children returning to school. For the vast majority of children, the benefits of being back in school far outweigh the very low risk from coronavirus (COVID-19)'.
We will not be allowing all groups of children to mix together, we will ensure that we reduce contact between different groups of pupils, and keep the stringent cleaning and disinfecting processes we already have in place to ensure that our school is as safe as can be for your child.
For the vast majority of time children will only mix with the children in their class and will play outside with the children in their year group.
In preparation, there are some key points you need to be aware of to ensure that your child is safe. Please be aware that some details may change; we will keep you up to date via the school website and text messages.
Attendance at school is compulsory. The government guidance says 'Missing out on more time in the classroom risks pupils falling further behind. Those with higher overall absences tend to achieve less well in both primary and secondary school. School attendance will therefore be mandatory again from the beginning of term'.
Pupils will be expected to wear school uniform or school PE kit on their PE day. They will not need pumps, but we do want all children to wear black school shoes, not trainers.
All children must bring their book bag and a water bottle.
There will be a reduced breakfast club. This will start at 8:15am. We will only be providing breakfast. Football, dodgeball, ICT and other activities during this time will not be running. Breakfast club will take place in the hall and the small hall, children will be split into Y1and 2, years 3 and 4 and years 5 and 6.
The school gates will open at 8.40 and your child must walk to their cloakroom door where an adult will greet them. Parents will not be allowed to enter the school building and go in their child's classroom.
At the end of the day we ask you to collect your child on time to avoid us having to mix children together at the end of the school day.
Your child will be expected to follow the strict behaviour rules relating to physical contact with other pupils, and keeping their hands clean. Pupils will be expected to wash their hands regularly and use hand sanitiser.
Your child will be provided with their own pencil case that has all the equipment (pencil, glue stick, scissors etc) in.
In order to maintain social distancing during social times that playground will be zoned and children will play out on a rota system every day.
Our school kitchen is fully open. Pupils that are eligible for free school meals will return to having their lunch at school. You will no longer receive lunch vouchers.
If you are paying for any items (breakfast club, dinners, snack, milk etc) we ask that you do this using Parent Pay as we do not want to handle any money at this time.
You can find a copy of the risk assessments we have completed on the website in the 'Parents' section.