Sports Competition
Sports Competition
13 March 2019 (by Darren Moseley (darren.moseley@girlingtonprimary.co.uk))
Year 5 Tennis Competition. West Bradford.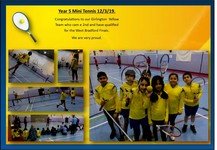 On Tuesday 12th March 2 teams attend the event to represent our school.
As usual the event was well organised with some dedicated leaders taking charge of the matches.
We are delighted to announce that the Girlington Yellow Team are now through to the West Bradford Finals, which will take place next week.
Fingers crossed.......
Well done.