Sports News
Sports News
5 December 2018 (by Darren Moseley (darren.moseley@girlingtonprimary.co.uk))
Under 9's Sports Hall Athletics Competition. Tuesday 4th December.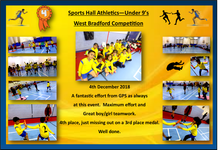 Our Under 9's SHA team headed to Thronton Recreation Centre to compete.
All children worked well in their teams and demonstrated great skill in their own events which they had practiced in both in PE and after school club.
The relay races at the end finished off the event and again all children putting in maximum effort running over the black line to finish.
Upon the announcement of the results we came 4th place, only missing out by a few points for a 3rd place medal.
Excellent behaviour was demonstrated by GPS children throughout.
Well done.