Sports News
Sports News
28 November 2018 (by Darren Moseley (darren.moseley@girlingtonprimary.co.uk))
Under 11's Sports Hall Athletics West Bradford Competition.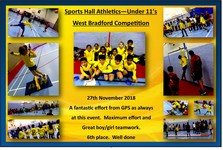 On Tuesday 27th November our Under 11's SHA Team headed to Beckfoot Thornton to compete against the other schools from our area.
It was good to be able to put what we have learnt in both PE and after school club against other schools.
With some amazing javelin throwing, speed bounce from GPS to name a couple of events.
Overall our team cam 5th place.
Well done.