Sports News
Sports News
26 November 2018 (by Darren Moseley (darren.moseley@girlingtonprimary.co.uk))
Dodgeball Bradford Cup 2018.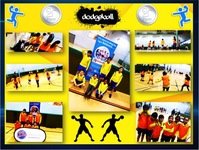 After school on Thursday 24th November our Year 6 Dodgeball team represented GPS for the Bradford Dodgeball Cup held at Manningham Sports Centre.
8 schools attended and played in 2 leagues.
We won every match within our league to make it through to the finals.
Due to the event starting late, the final matches had to be timed to 2 minutes each and the best of 3.
We lost the first match, won the second and only on the time restraints lost the third, coming second.
The children played exceptionally well and shows that practicing this game at school. plus homing in on skills in clubs has paid off.
Silver in our first ever Dodgeball Cup competition was a fantastic result.
Great sportsmanship was demonstrated by our team as always and was lovely to see so many girls taking part in the mixed event for almost all of the teams.
January sees our School Games Competition for Dodgeball where teams from Years 4.5 and 6 will be able to attend.